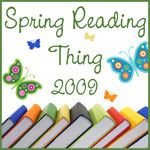 I didn't have much of a list to start with .....so here is just the recap of what I did read:
--interesting read - my prior reading of Frank Peretti made it pretty easy to embrace the imagination of a different perspective of God
--I have loved watching Heath Ledger since 10 Things I Hate About You - it was an interesting read with lots of fun pictures
--definitely found a new favorite author. saw the TV movie of Tribute not long after I finished it and was reminded why I prefer reading books to seeing movies of books (it was a lot different with lots of missing pieces)
--another new author for me....not sure what I think. Her books take me longer to get into than I ususally prefer, but they are not bad.
--another new favorite author, courtesy of my Phillip-in-law......mystery, thriller, medical, spy stuff, etc
--chick lit, but not very uplifting and had more language and sketchy scenes than I usually prefer
--I love the TV show Bones, which is based on these books. I like the TV show better.
--Nora Roberts writes under this nom de plume.....this one was a futuristic cop drama. Didn't love it so much. Probably will just stick to Nora Roberts writing as herself.
Currently I'm reading The Big Rich: The Rise and Fall of the Greatest Texas Oil Fortunes by Bryan Burrough. It was recommended to me by a friend at church and since I work for a descendant of one of the 4 men profiled in the book, thought it might be especially interesting. So far so good, though it is a slower read than normal for me.
That's it for now.....tune in come Fall for more book reading posts!